Jess! Pfohl, July 2017
Jess! Pfohl
Jess! Pfohl is a self-taught 21st century American artist residing in Baltimore, Maryland. Jess! holds degrees from St. Bonaventure University in Journalism and Marketing. In 2012 Jess! was endorsed by Campbell's Soup in celebration of the 50th Anniversary of Andy Warhol's Campbell's Soup Cans. In September 2016 Jess! headlined the Music is Art Festival supporting the Goo Goo Dolls with her visual art installation gallery, Sexposé.
Jess! has worked with many artists throughout a wide range of mediums including film, photography, textile and music. Jess! attributes the combination of these experiences as being the core influence of her work. Even though the style of work changes and evolves, the subject matter tends to revolve around human behavior.
Jess! has works permanently installed at Brooklyn Bowl in Brooklyn, New York, E-Villa in Atlanta, Georgia and The Alchemy of Art in Baltimore, Maryland.
Jess!' latest collection of works, Watercolor and Inks (completed 4/2016), is licensed for design in the Gift and Home Décor Industry. Product developed by the artist is available in retail locations throughout the United States. The original Pink Claw Blue Crab displayed at the Baltimore Museum of Art, amongst the product it inspired (6/1/16). Jess! continues to paint in this style, regularly updating the art and design catalog; there are currently over 150 images and combinations.
Jess! is represented by ALI Agency – Vermont for Licensing.
Phipps Moran: July 2017 featured artist
Phipps Moran is a local Baltimore County resident who enjoys capturing the grit, irony and rhythm of the urban landscape in her photographs. Allowing lines and shapes formed by the geometry and interplay of the architectural and human life to tell the story in each frame. Phipps is always looking to capture the people, places and things that scream BALTIMORE! Whether it be the kitschy flamingo bedecked vehicle or the telephone wire crossing through the mural of Omar from The Wire. Admittedly she also seeks out examples of deterioration and deconstruction. Finding that the way buildings, monuments and other structures fall into ruin and by the rich patinas on wood and metal from the result of time and mother nature intrigue her. The ever evolving and revolving changes in urban landscape lend a constant source of subject matter for her and with her appreciation for street art it's never ending. And through her photographs she captures these moments before time takes it's toll yet again.
Phipps Moran had a BA with a double major in Visual Arts and Political Science from Goucher College. She has worked many jobs including teaching at the former Malcolm X School, public relations director of the University of Maryland Hospital, SIDS Alliance and currently runs her own business, TooArtfulForYou through Etsy.com. For more work by Phipps check her out at www.etsy.com/shop/TooArtfulForYou She can be emailed at phipps852@gmail.com
Ferne Weinstein March 2017
Artist Statement
My work is intuitive. It is about mark making and spontaneity. Color pleases me and I aim to reflect the momentary color of light. My paintings and drawings depict my world: earth and sky here at home and throughout the world.
Recent Art Opening: Fells Point, Baltimore
I recently had an opening at the Alchemy of Art in Fells Point, Baltimore on March 2nd, 2017. Sheridan Costa, gallery owner, put on a lively evening including a DJ. See photos from the event.
Alexander Reynolds
In February of 2015 Alexander, an at the time a Maryland Institute College of the Art student, had his SOLO show with us
James Gilliam and Parvina Mamatova
James and Parvenu are a match made in heaven. These two shared our Black Room in December of 2014 right before their wedding. They work in many mediums such as wood (spoons or tables), map decoupage, folded books, paintins and pen and ink drawings and screen printing.
Carter Roach and Andy Sanders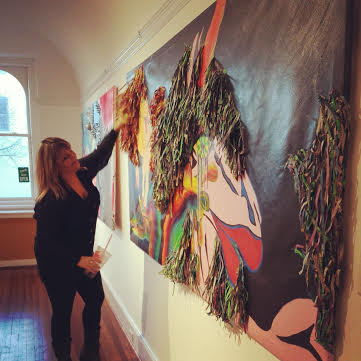 Jess Pfolh
Mix medium artist. Baltimore, MD. showed January 2014